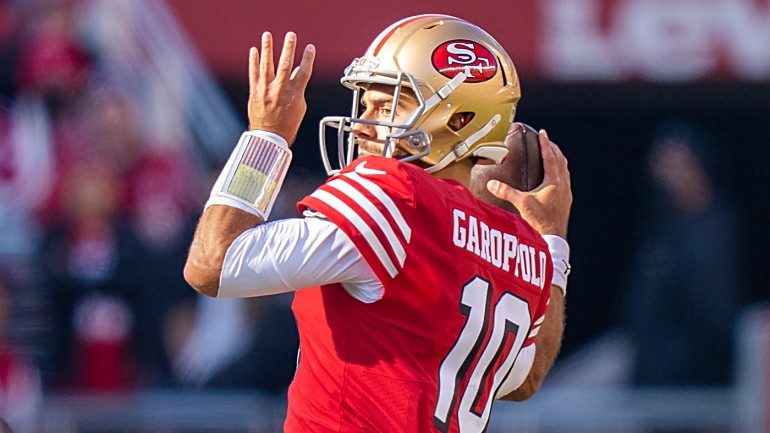 In a surprising development Monday, the San Francisco 49ers agreed to a restructured contract with Jimmy Garoppolo. ESPN's Adam Schefter reported that the one-year deal is worth $6.5 million in base salary, along with another $500K in roster bonuses, as well as playtime bonuses that can push the deal to $16 million.
According to Jason Hurley, Garoppolo's new cap hit should be $8.94 million, which is significantly lower than his original $26.95 million cap hit, offering the 49ers extra cap space, while having the veteran quarterback on a much more reasonable contract ahead of 2022.
Adam Schefter included that Garoppolo's deal involves no-trade and no-tag clauses, which many have interpreted as the 30-year-old remaining with the 49ers for the entirety of the 2022 season before going elsewhere in 2023.
While that could be true, there very well may be a different scenario that could unfold as a result of the restructuring.
Trade Chances
While it may seem the opposite, Jimmy Garoppolo's trade chances have actually increased with the restructure.
During the offseason, Garoppolo's salary has been the biggest issue when approaching other teams about a trade, as his $24.2 million base salary cannot fit under the cap for every team in the NFL—except for the Cleveland Browns.
But, even for the Browns, they seemed reluctant to trade for Garoppolo at his price, given that there didn't appear to be any other contenders for his services, and it wasn't sensible for the 49ers to eat any salary in a trade, as the five-year starter's base salary was non-guaranteed for 2022.
So, in order for a trade to be facilitated, Garoppolo likely would have had to agree to a restructured contract with another organization, and that domino finally fell on Monday.
While the new deal involves an official no-trade clause, Garoppolo has essentially operated with unofficial veto power over any trade this offseason, as he would have to agree to a restructure with any team that traded for him, and would simply have to refuse for any team he wasn't interested in.
In my opinion, there hasn't been any change of dynamics in relation to a trade with Jimmy Garoppolo, except for the fact that his base salary of $6.5 million is now fully guaranteed.
Now, with the restructure being announced, Garoppolo has a cap hit that is palatable to any interested suitors, which could spearhead the possibility of a trade. Jordan Schultz reported earlier today, on the Pat McAfee Show, that teams have indeed called the 49ers in regards to the quarterback.
In fact, while a trade shouldn't be expected, don't be surprised to see one materialize in the next 15 hours before the 53-man cutdown deadline in order to preserve the roster status of QBs Nate Sudfeld and/or Brock Purdy.
Now, Garoppolo could indeed wait for an injury or an unfortunate circumstance in another quarterback room that creates a starting opportunity, which could allow him to achieve some of the many play-time incentives in the current restructure.
In that instance, Garoppolo could remain on the roster for a period of time during the regular season before a trade is facilitated.
Overall, if a trade doesn't work out, the 49ers have a top-tier backup for a shade under $9 million—even if it isn't the smartest decision for the locker room. However, don't count out a move occurring prior to the trade deadline, if not before Week 1.
The opinions within this article are those of the writer and, while just as important, are not necessarily those of the site as a whole.
The no-trade clause is one of the more significant storylines within the bigger storyline that is Jimmy Garoppolo's restructured deal. Yes, along with a no-tag clause, the new contract gives the quarterback control over his fate. In exchange, the San Francisco 49ers, who could not find a trade partner willing to take Garoppolo off their hands, save a lot of salary-cap space.
However, that doesn't mean a trade is off the table. It just means that the opportunity would have to be desirable in Garoppolo's eyes.
ESPN's Jeremy Fowler reports that the 49ers and Garoppolo have discussed the possibility of waiving the no-trade clause should a competitive team lose a starting quarterback or another opportunity present itself. However, Fowler adds that waiving the clause
This week is a homecoming for San Francisco 49ers quarterback Trey Lance, who played high school football in Marshall, Minnesota. His high school is busing players and coaches to tomorrow's joint practice between the 49ers and Minnesota Vikings. In addition, Lance expects a strong contingent of family and friends at Saturday's preseason game between the two teams.
Head coach Kyle Shanahan said the plan was to play the second-year quarterback in the first and third preseason games, sidelining him for Saturday's game. That has more to do with the 49ers playing three exhibition games in 14 days. Only four days sit between the game against the Vikings and the finale against the Houston Texans.
"Right now, I'm not expecting to [play him], but we're day to day with
Jimmy Garoppolo will remain a 49er.
News of a restructured deal, which broke earlier today, confirms that Garoppolo and the 49ers have come to terms on a one-year deal that will make him Trey Lance's backup for the remainder of 2022.
The #49ers and QB Jimmy Garoppolo are finalizing a new contract that will make him the highest paid backup in the NFL, sources tell me and @MikeGarafolo. A solution that keeps Jimmy G on the roster while making
There is no shortage of Jimmy Garoppolo talk as the roster cut-down deadline quickly approaches. Everyone is trying to figure out what the San Francisco 49ers plan to do with their unwanted veteran quarterback. He's not just unwanted by the Niners; no other team seems to want Garoppolo, either. At least, they aren't willing to trade for him.
Signing Garoppolo after the 49ers release him remains a possibility, though. You don't have to look further than San Francisco's own division to find a quarterback-needy team that might be grateful to add Garoppolo. The Seattle Seahawks look to enter the regular season with Geno Smith at the helm of the offense after an underwhelming offseason battle with Drew Lock.
One writer, Peter King of NBC Sports, doesn't believe