Ohio Sen. JD Vance is accusing the federal government and media Thursday of being slow to respond to the toxic train derailment in East Palestine because the people living there "have the wrong politics." 
Vance made the remark on Capitol Hill as Norfolk Southern CEO Alan Shaw is being grilled by lawmakers over his company's handling of the Feb. 3 disaster near the Ohio-Pennsylvania border. 
It took 20 days for Transportation Secretary Pete Buttigieg to show up on-scene at the dangerous derailment site, prompting an investigation by the House Oversight Committee into his "apathy." A CNN journalist also has categorized East Palestine on-air as "hardcore Trump country" after the former president captured more than 70 percent of the vote in Columbiana County in the 2020 election. 
"I think that our leadership, our media and our politicians were slow to respond to this crisis, in part because a certain segment of our leadership feels like the people of East Palestine are a little out of style. They have the wrong politics," Vance said. "They're a little too rural, maybe a little too White." 
CNN LABELS EAST PALESTINE, OHIO 'HARDCORE TRUMP COUNTRY' AS IT DOWNPLAYS ANGER TOWARDS BUTTIGEIG'S RESPONSE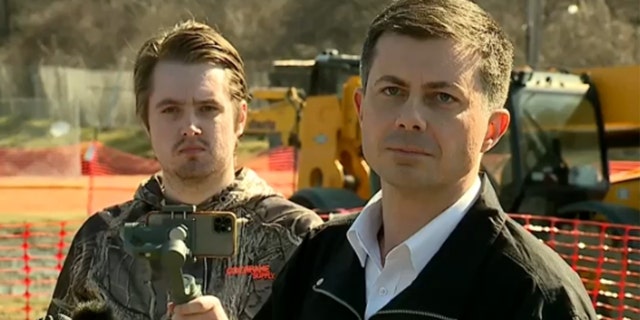 Vance added that the people of East Palestine and the Ohio EPA have "done a great job on this tragedy," but he called on the federal EPA to work harder in cleaning up the chemicals there. 
"Right now, as we speak, there are piles of dirt accumulating in East Palestine, piles of dirt filled with toxic chemicals that haven't been moved out of the state in a week. What happens if it rains?" Vance asked. "What happens if the very toxic dirt that we just dug out of the ground begins to seep back into the ground, causing problems for the air and water for the residents of East Palestine? 
"We need leadership," he declared. "We need the EPA to get on the ground and aggressively get this stuff out of East Palestine, into properly licensed facilities." 
In late February, the National Transportation Safety Board issued a preliminary report saying the Norfolk Southern train that derailed had had a wheel bearing with a "temperature at 253°F above ambient" in the moments before it came off the tracks. 
BIDEN SAYS HE WILL VISIT EAST PALESTINE, BUT WON'T SAY WHEN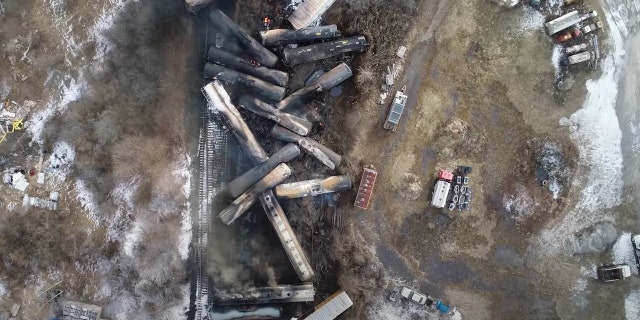 Vance, who is the co-author of the Railway Safety Act of 2023 bill with Ohio Democrat Sen. Sherrod Brown, is now pushing for railroad safety enhancements. 
The office of U.S. Senate Majority Whip Dick Durbin, D-Ill., one of the supporters of the bill, says the legislation "would increase how frequently the temperature of wheel bearings must be checked, implement safety procedures for trains carrying hazardous material, require that trains hauling hazardous materials have two trained crewmembers on board, and provide funding for hazmat training for first responders." 
But Vance said Thursday he worries that "there has been a movement in my party … in response to the legislation that I've proposed that would not hold Norfolk Southern or the rail industry accountable." 
"I've talked to a number of my Republican colleagues, and nearly everybody has dealt in complete good faith, whether they like the bill or have some concerns about it. And these comments are not directed at them. Who they are directed at is a particular slice of people who seem to think that any public safety enhancements for the rail industry is somehow a violation of the free market," Vance said. 
CLICK HERE TO GET THE FOX NEWS APP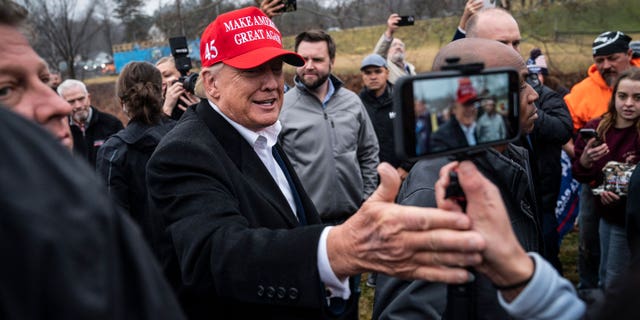 "Well, if you look at this industry and what's happened in the last 30 years, that argument is a farce. This is an industry that enjoys special subsidies that almost no industry enjoys. This is an industry that enjoys special legal carve-outs that almost no industry enjoys. This is an industry that just three months ago had the federal government come in and save them from a labor dispute, it was effectively a bailout," Vance continued. 
"And now they're claiming before the Senate and the House our reasonable regulation, our reasonable legislation is somehow a violation of the free market?" he said. "Well pot meet the kettle, because that doesn't make an ounce of sense."