Russian authorities paraded WNBA star Brittney Griner in court near Moscow on Friday and extended her pre-trial detention for another month, her lawyer said.
Pictures of the hearing in Khimki, just outside the capital, showed a handcuffed Griner being led out of court with her head down and her signature dreadlocks emerging from a  hooded sweatshirt. 
Griner's lawyer Alexander Boikov told the Associated Press and Reuters the short extension may indicate that her case will go to trial soon.
Griner, a star center for the Phoenix Mercury, was arrested in February on drug charges after a search of her luggage at the Sheremetyevo International Airport near Moscow turned up vape cartridges containing oil derived from cannabis, authorities said. 
The offense could carry a maximum sentence of 10 years in prison.
In March, Russian officials said Griner's detention had been extended until May 19. At that time, Griner was said to be doing OK and was seeing her Russian legal team multiple times a week following her detention. 
Earlier this month the State Department determined she was being "wrongfully detained by the Russian government," a classification that would allow the U.S. government to more aggressively secure her release.
The decorated 31-year-old Griner has won two Olympic gold medals, a WNBA championship with the Mercury and a national title at Baylor University.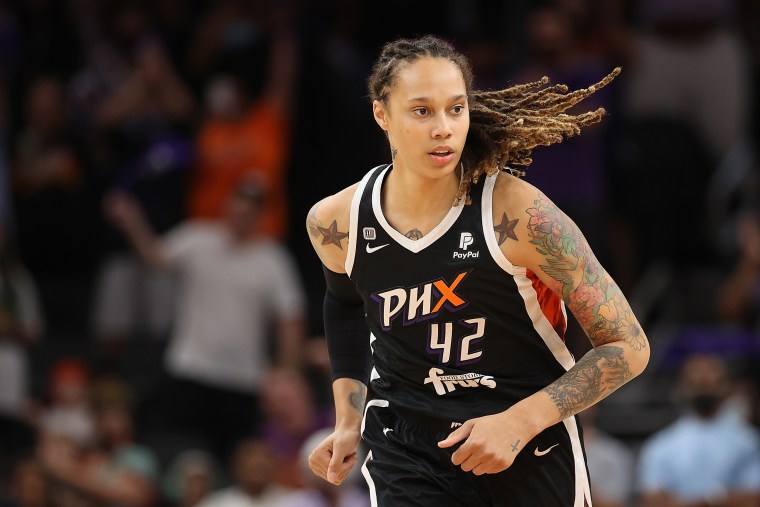 The WNBA season typically runs from late spring to early fall, allowing players like Griner to play in overseas leagues. She's played in Russia for the past seven years. 
The WNBA season tipped off May 6 without Griner, but her absence was clearly felt. The league is honoring her with floor decals of her initials BG and her number 42 on all 12 arena courts for the 2022 season.
Injured Washington Mystics forward Alysha Clark urged the White House on Friday to do more to win Griner's release.
"It's been 429 days since I've played basketball, but that means nothing compared to the 85 days of our sister Brittney Griner being wrongfully detained in Russia," Clark tweeted. "It is time for her to come home."
The Mercury on Thursday retweeted pictures of Seattle Storm forward Breanna Stewart posted of herself wearing a Griner jersey and writing that it's time for "our friend, Brittney Griner" to come home.
Stewart is a teammate of Griner's on their Russian team, UMMC Ekaterinburg.
Bianca Britton contributed.